Our team at Sierra Ranch Veterinary Clinic & Pet Rehabilitation Center maintain the highest levels of accreditation and pursue ongoing education to stay abreast of the latest trends in the medical field. Read on to learn more about our staff's experience and training.
Doctors:
Rebecca Williams, DVM, Medical Director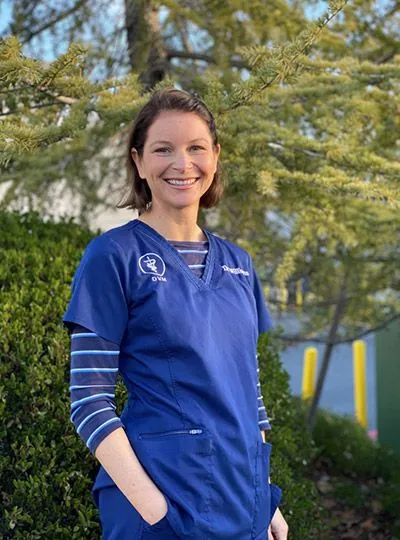 Dr. Williams completed her undergraduate studies at Cal Poly San Luis Obispo with a BS in Animal Science. She was accepted into and completed her veterinary medical degree from Western University of Health Sciences School of Veterinary Medicine. Dr. Williams immediately began to practice veterinary medicine at an emergency hospital in the Bay Area where she gained a vast amount of experience of veterinary emergency medicine. When job opportunities became available, she transitioned to Placer County working general practice and emergency. Her professional interest includes emergency, internal medicine and ophthalmology. Outside of veterinary medicine Dr. Williams is kept busy raising her two sons with her high school sweetheart. She enjoys skiing, running, yoga, and spending time with her Australian Shepherd, Comet.
---
Practice Manager:
Carey Hookins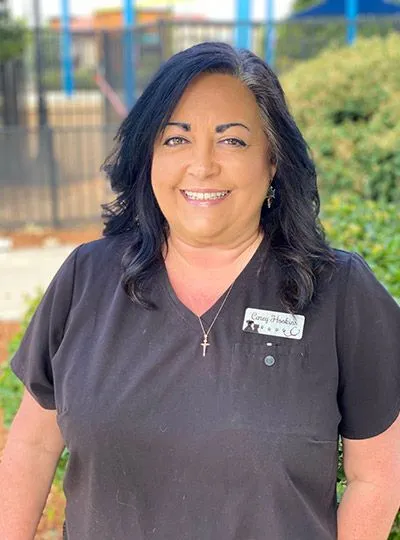 Carey Hookins has worked in the Veterinary industry since 1995. She graduated Western Career College Technician Program in 1996. After college she spent 7 years working as a veterinary technician, 8 years in accounting and the last 8 years as a Hospital Manager.
Carey is passionate when it comes to leadership and coaching. She loves her job and can't imagine doing anything else. She prides herself on her strong communication skills with clients and staff.
She joined Sierra Ranch Veterinary Clinic and Rehabilitation Center February 2022. In her spare time she enjoys spending time with her husband and kids, camping, and enjoying the outdoors. Her animal family consists of two dogs; a Bernese Mountain Dog named "Waylon Jennings" and an English Bulldog named "Bulldog".
Customer Service Representatives:
Molly is a receptionist and assitant in the general practice. She is one of the voices of our hospital and looks forward to helping you address your pets needs. Molly has been in the veterinaryb industry for 3 years and her favorite part of working at SRVC is getting to see all the adorable pets that gather in our lobby. Molly has to rescues of her own, an adorable tabby mix name Chester and I seen your Chihuahua mix named Potato.
Patient Liaison:
Larissa is a technician in our general practice! You'll most often see Larissa assisting our doctors with appointments, but you may also catch her working the front desk or treating pets in the lobby! Larissa has been at SRVC for 10 years and enjoys creating close bond with our clients and their pets.
Technician Team:
Sarah is our lead veterinary technician who has been in Veterinary industry for nine years! Sarah spends her day, assisting the doctor with surgical procedures and routine examinations, making sure your pets are healthy in every way. Sarah has three loving cats of her own.
Jamie has been an RVT for 22 years and in the veterinary industry for 30 years. Her favorite part of working at Sierra Ranch is having the opportunity to be a patient advocate and keep your pets mouth healthy! Jamie takes her time with each patient and make sure our clients are educated on their pets, dental health. Jamie has an adorable Chiweenie, named Stevie and a leopard gecko.
Kendal is a veterinary assistant who has worked in the veterinary field for nearly 8 years! Kendal loves working at SRVC thanks to our loyal customers, adorable patients, and are amazing, hard-working stuff. Kendal has five sweet dogs waiting for her at home!
Kennel Assistants:
Rosie
Ashley
Mikayla
Jessica
Jessica is a kennel assistant on the boarding side of SRVC. Jessica spends her day taking care of our boarding pets and assisting our technicians and doctors in the general practice.
---
Rehabilitation Team:
Masami Seplow, DVM, CVA, CCRP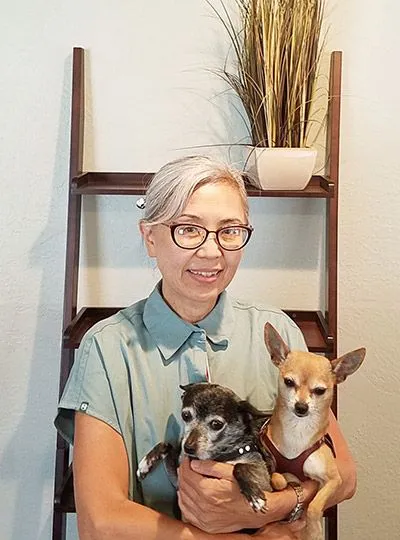 Masami Seplow was born and raised in Japan and received her bachelor's degree in sociology in Japan, then moved to Miami FL to obtain her Masters degree in Hospitality Management, but decided to be a veterinarian before receiving her degree. She received her degree as a Doctor of Veterinary Medicine at College of Veterinary Medicine, University of Florida (Go Gators!).
After working as a general practitioner at a 24 hour hospital, Masami Seplow decided to be certified in acupuncture and Chinese medicine, and has been practicing for longer than 15 years. She received another certification in canine rehabilitation in 2015. She is particularly interested in geriatric medicine and food therapy, in addition to rehab and Chinese medicine, because all of these modalities are positive and gentle.
She has two rescued Chihuahuas, Ellie and Lucas (and occasional fosters). She also loves cooking and playing music (she used to join the amateur orchestra as a violist).
Rehab Technician Team:
Dayna- Lead Rehab Technician
Madison
Coley
We provide the highest quality veterinary treatment and specialty care for your pets. You can be confident knowing your pet is in good hands because of our advanced training, expertise and cutting-edge technology. In addition to superior patient care our facility is home to the largest pet rehabilitation center in Placer County!

Our veterinary clinic prides itself on delivering state-of-the-art services, while providing compassionate care for all the animals we work with. You and your pet will receive the attention you deserve with our unique, collaborative care approach including many complementary options such as behavior evaluations, laser therapy and physical rehabilitation. We also offer supportive veterinary services on site, including our in-house pharmacy - delivering the ultimate in care and convenience.
Our dedicated staff works efficiently as a team and has been together since our opening. We are able to approach our veterinary care with both knowledge and compassion to deliver the gold-standard of medicine.
Mission Statement
Dedicated to providing excellent and compassionate care.
As a team we share the the following Core Values :
Integrity
Compassion
Respect
Team Work
Accountability
---